Description
A perfect companion for your daily adventures, the EOS 200D II is compact and lightweight but heavy on performance and features.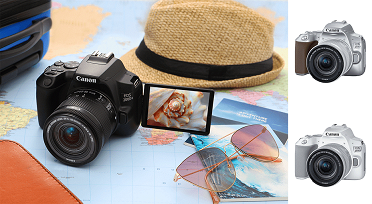 Manila, Philippines – Digital imaging solutions leader Canon is proud to announce the release of the EOS 200D II, the world's lightest digital SLR camera equipped with an APS-C size imaging sensor and a Vari-angle touch screen LCD monitor. This latest addition to the popular EOS DSLR line-up boasts of a lightweight and compact body that is heavy on features and now powered by Canon's latest DIGIC 8 imaging processor, unlocking the much-coveted 4K video recording. The EOS 200D II was designed for those looking for a small and unintimidating camera that can be enjoyed anywhere, anytime.
"The new EOS 200D II marries form and function with its compact and stylish design and user-friendly features. This is an ideal companion to capture memories – from everyday moments to special, once-in-a-lifetime occasions," said Mr. Benny Yu, Head of Consumer Imaging & Information Division, Canon Marketing (Philippines), Inc. "The new EOS 200D II simply makes everyday photography extraordinary."
Empowering Vivid Storytelling
Powered by the latest DIGIC 8 processor and a 24.1MP APS-C CMOS sensor, users can expect to capture sharp, vibrant images with the best quality. A wide ISO range of 100 to 25,600 (expandable to 51,200) allows for shooting in a variety of lighting conditions, while noise level is kept to a minimum in low light conditions. And though similar in size to its predecessor, the new EOS 200D II weighs less at approximately 449g (black/silver), making it the lightest digital SLR camera to date.
From shooting evening cityscapes or capturing a dish in a dimly lit restaurant, users will be able to achieve focus with the minimum AF luminance of EV-4, made possible with Dual Pixel AF technology.
Although the EOS 200D II is packed with full-fledged functions, even new DSLR users would love how easy it is to operate owing to its intuitive user interface, compact size, light weight, and a deeper grip design for a secure hold.
Capturing scenes like the dramatic gradations of a sunrise or sunset, or the rich hues of a grass field comes easy with the EOS 200D II's Auto Lighting Optimizer. While a continuous shooting rate of up to 5 frames per second makes tracking fast-moving subjects like live sports games simpler to capture.
The EOS 200D II also brings out the filmmaker in every user with high-quality movies in 4K resolution. Even in dim environments, every footage remains sharp with the Movie Digital IS, while the menu's 4K Time-Lapse function makes recording time-lapse videos uncomplicated.
Intuitive Features
A new feature to DSLRs, the Creative Assist function helps new shooters navigate the settings to achieve their desired effect. For instance, to adjust image brightness or to blur the background, users can simply touch the Creative Assist menu button. Additionally, users can store their preferred settings for future use, so they need not set it every time.
Using EOS 200D II's Smooth Skin function, users can up their self-portrait game by allowing them to view the effect in real-time using the Vari-angle touch screen LCD monitor.
Beautiful portraits are easier to take with the Eye Detection AF, which focuses on the eye of the subject when shooting. The intelligent focus system can continue to track the subject's eye even when there is movement, ensuring that users never lose focus of the subject.
Easy Connectivity
The EOS 200D II also offers simple and convenient solutions to transfer files wirelessly between devices.